John does many paintings "en plein-aire", painting in the open air. He travels and paints to gather new information for his art. It is important to get new information to keep his paintings fresh. When painting outdoors it is essential to get the information onto the canvas very quickly before the light changes and changes to shadows on the landscape.
The first step in painting a field study is the "Cover The Canvas". John starts with the major shapes and paints them as accurately as possible in color and value. The trees are a dark flat value, no white. He wants them dark as they will be the dark in the painting.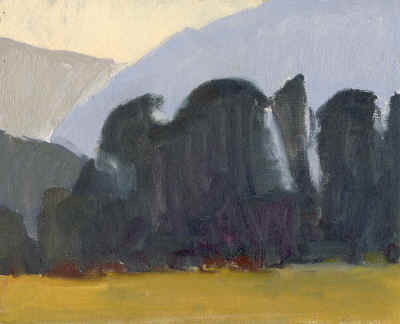 The second step is "Separate The Shapes". At this stage he indicates the lighter values. He introduces his light source (the position of the Sun is to his left) and separate shapes.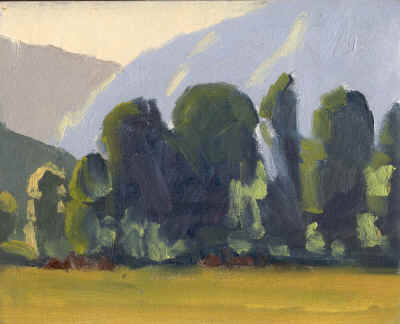 The next step is to "Refine The Shapes". John works toward harmonizing his colors. Working from light to dark and giving the shapes more form and volume. Particularly in the tree shapes.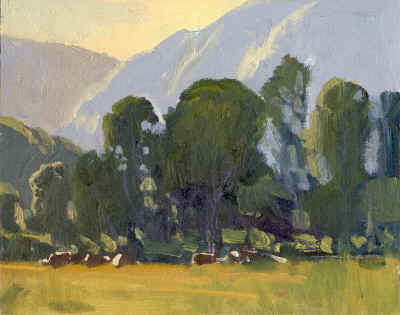 John completes his field studies by doing the "Finishing Touches". To finish, he refines and varies his shapes, carves out branches and adds interest to the foreground.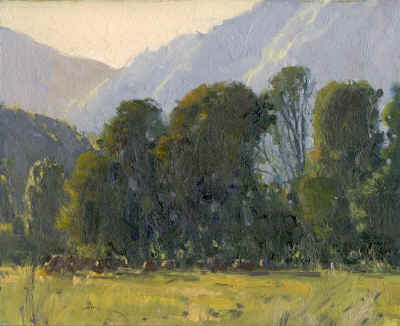 Below are a number of field studies John did plein-air.